By Nitipol Kiravanich, Sanjeet Amatya and Dr. Wenchao Xue
April 8th, 2022 — AIT Belt and Road Research Center (BRRC) organized the fourth webinar of their series titled "High-Speed Railway - The Flagship Project to Boost Regional Connection." It offered different perspectives from deeply engaged and expert individuals in the high-speed railway (HSR) area — particularly on understanding its context in Thailand and how countries in the region can mutually benefit from it in the future.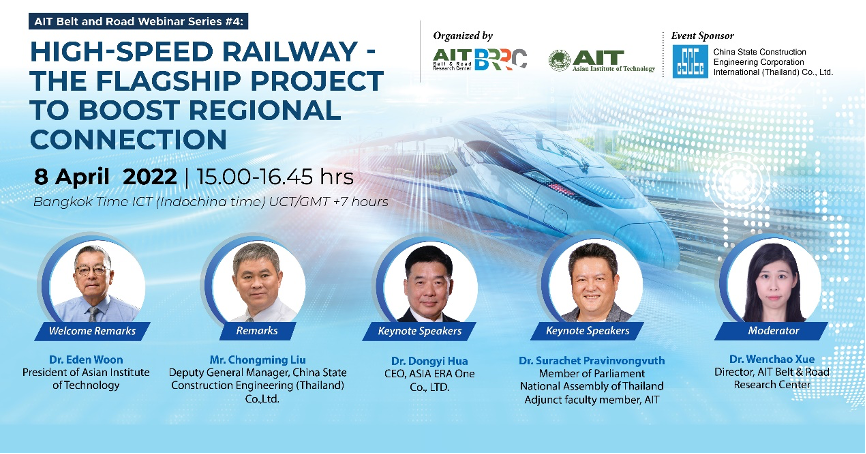 In 2013, China launched the Belt and Road Initiative (BRI) to improve connectivity and cooperation on a transcontinental scale. Among many signature projects, HSR is one of the most critical projects that portrayed significance in the economy, transportation, safety, energy conservation, and the environment in the region.
Furthermore, in 2016 the China - Thailand High-speed Railway was initiated, and this rail line will surge through Thailand, connecting Vientiane (Laos) and Kunming (China). In the future, it also plans to reach Malaysia and Singapore, demonstrating regional connection and multilateral development. Subsequently, HSR is anticipated to be one of the mainstream transportation options in the future. The BRRC conducted this webinar by inviting speakers who are deeply engaged experts in HSR projects to share their insights on its immense implications.
Dr. Wenchao Xue, Director of BRRC, AIT, moderated this webinar sponsored by China state construction engineering corporation international (Thailand) Co., Ltd. (CSCEC). Speakers and experts in this webinar included Mr. Chongming Liu, Deputy General Manager of China State Construction Engineering (Thailand) Co., Ltd (CSCECTH); Dr. Dongyi Hua, CEO of Asia Era One Co., Ltd.; and Dr. Surachet Pravinvongvuth, Member of Parliament National Assembly of Thailand (NAT), also adjunct faculty member AIT.
In the welcoming remarks, AIT President Dr. Eden Woon highlighted the economic implication HSR possessed, saying, "HSR projects have fostered the rapid economic growth in the belt and road region by accelerating the development of industry and trade sectors along the railway lines. Today, the Thailand-China HSR projects are under construction and expected to be completed and in use by 2025, which will connect China, Laos, and Thailand for more active regional, economic, and cultural exchange and development". President Woon also welcomed and introduced all panel experts and stated that their presentation would help audiences obtain comprehensive and detailed information, knowledge, and different professional viewpoints regarding HSR projects.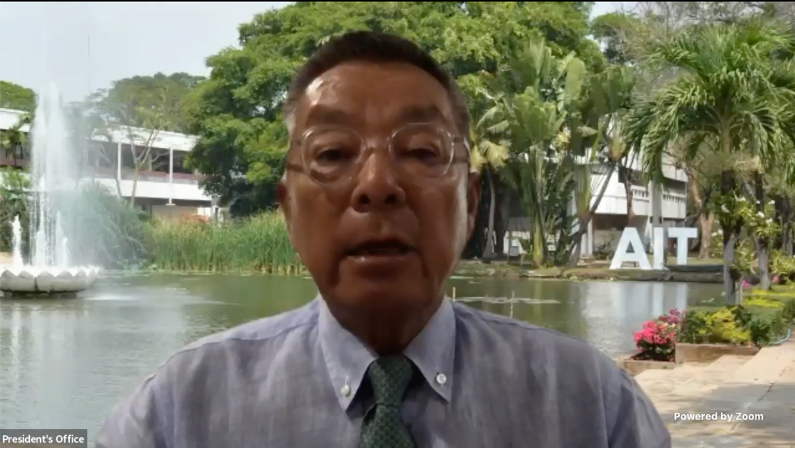 HSR and its opportunities in this region
CSCEC Deputy General Manager Mr. Chongming Liu and CEO of Asia Era One Co., LTD. Dr. Dongyi Hua shed light on HSR opportunities in the region. The CSCEC Deputy General Manager underscored, "It could be considered as a flagship project of practical cooperation between the two countries and an important connectivity project under the framework of the Belt and Road Initiatives," as he cited the China-Thailand HSR project was launched back in 2015. Pointing out that the construction of the railway is conducive to Thailand's long-term development and meets the vital interests of Thai people, both locally and regionally, The CSCEC Deputy General Manager highlighted, "The BRI initiatives are enabling the connection among ASEAN countries."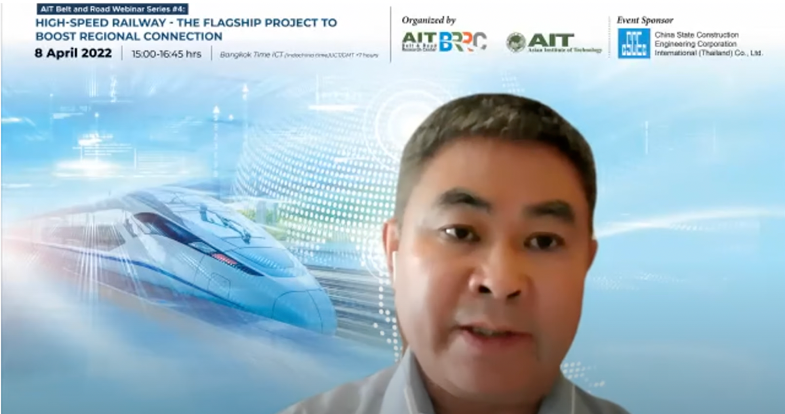 Within the same context, the CEO of Asia Era One acknowledged the development of high-speed rail in the past decades along with the social contribution it has brought. As Thailand is considered a logistic hub for ASEAN and beyond, he highlighted, "The HSR project would benefit the region's development and expected it will create many demands for technicists."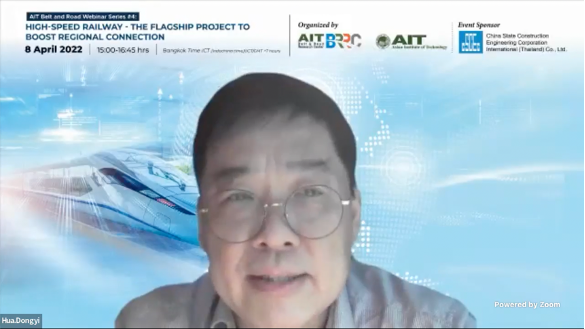 Challenges posed by HSR
Indeed, with opportunities comes challenges; Member of Parliament, NAT, Dr. Surachet Pravinvongvuth, shared his concerns about HSR opportunities. One of which is the overlapping of the modes of transport (motorways, railways, and airports). "Railway is beneficial but only if there is enough usage," Dr. Pravinvongvuth said. He predicted that the ridership might not be sufficient upon completing the HSR; in such a case, the return on the project from the national budget would be disadvantageous for Thailand. Moreover, he suggested involving parties to take a holistic approach to avoid overinvestment. As he summarized his standpoints, Dr. Pravinvongvuth still supports the Thailand - China connectivity. However, the three projects - double-track railway development, high-speed railway development, and motorway development projects - coincide, so he proposed cautiously choosing the development of projects.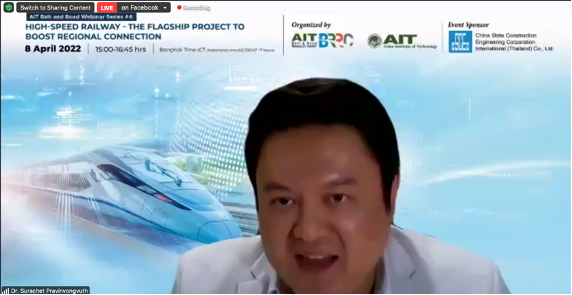 As a closing remark, Dr. Wenchao Xue highlighted that "communication" will bring a mutual understanding and aid decision-making. She concluded, "For any decision we make, it will bring not only the benefit but also the challenges and concerns. I am delighted to hear different voices and honest views in the webinar today."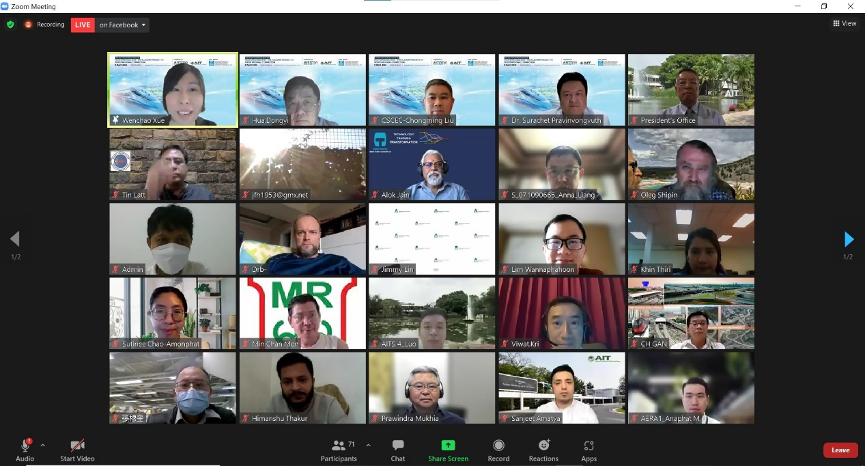 ---
AIT Belt and Road center aims to incorporate regional research resources and promote diversified cooperation under the framework of the Belt & Road Initiative. More info: Click Here
CSCECTH is a subsidiary of CSCEC, one of the world's largest engineering contractors, founded in China in 1982. The organization operates in more than 100 countries and regions in the world, covering investment and development (real estate, construction financing, and operation), construction engineering (housing and infrastructure), as well as survey and design (green construction, energy conservation, environmental protection, and e-commerce).
More information on CSCEC: https://www.cscec.com/
Asia Era One Co., Ltd is an interconnecting mobility operator of the high-speed railway that links three airports (Don Mueang, Suvarnabhumi, and U-Tapao) together. The organization is also under Public Private Partnership (PPP) agreement with the Thai government to design, build, operate and maintain high-speed railways that link the three airports together.
More information on Asia Era One: https://www.asiaeraone.com/th
----
The first BRRC webinar titled "Belt & Road Initiative as a Regional Economic Engine: Opportunities and Challenges" was held on June 29, 2021.
Full story: https://oldweb.ait.ac.th/2021/07/bri-as-win-win-regional-economic-engine/
The second webinar titled "Digital Belt & Road – Sustainable Development Empowered by Data Science" was held on August 13, 2022.
Full story: https://oldweb.ait.ac.th/2021/08/ait-brrc-discusses-data-science-applications-to-sustainable-development-research/