By Nitipol Kiravanich and Sanjeet Amatya
March 21st, 2022 — Natural Resources Management (NRM) students of the Department of Development and Sustainability (DDS) at the Asian Institute of Technology (AIT) organized a poetry competition titled "The Forest Speaks" to commemorate the International Day of Forests (March 21st). The United Nations General Assembly (UNGA) proclaimed March 21st as an "International Day of Forests" to celebrate and raise awareness of the importance of all types of forests. On this occasion, AIT students and participants from other educational institutions expressed their thoughts and values for the forests through the submissions of their poems.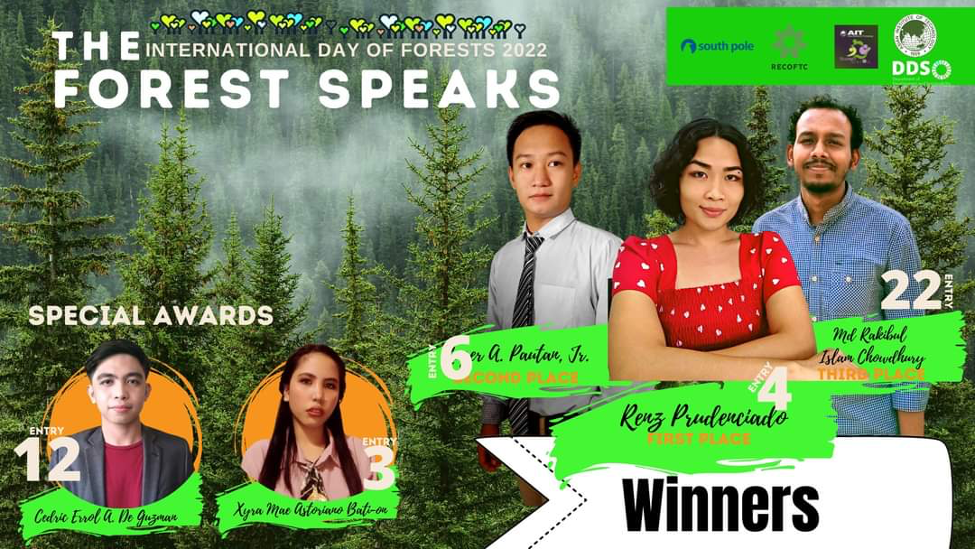 The contest was sponsored by The Regional Community Forestry Training Center for Asia and the Pacific (RECOFTC); South Pole; and AIT Student Union (SU).
The mind behind the poetry competition, NRM Prof. Nophea Sasaki sought a way to emphasize the importance of forests by allowing AIT community members and participants from other institutes to voice and resonate their thoughts about the forests. Under the coordination of Ms. Pia Montoya and Ms. Roan Marrielle G. Olino, the poetry contest accepted submissions from March 7th to March 16th, 2022. Based on online voting and judging, five entries were selected as winners, and the awarding event virtually on March 19th. Judges of the event include Dr. Takuji W. Tsusaka of NRM, Dr. Mary Rose Sarausad of AIT's Language Center, and Prof. Nophea Sasaki.
In the opening remarks of the winners' announcement, the Dean of the School of Environment, Resources and Development (SERD), Prof. Vilas Nitivattananon underscored, "This event represents our commitment and contribution to sustainable development". In addition, the Head of the DDS Prof. Mokbul Morshed Ahmad urged, "forest must be protected for the future".
Prof. Sasaki in his address emphasized that "anyone can protect the forest" regardless of the role individuals play in forest preservation which all can contribute in their own ways. He proposed that those who are non-expert individuals can voice appreciation and encourage others to do so through the concept of 'universal connection'. For experts, they could spread the knowledge of forest ecosystems and manage forests according to guidelines, laws, and regulations. Moreover, scientists should provide the most recent knowledge with the most accurate information to the public and 'ensure trust in science'.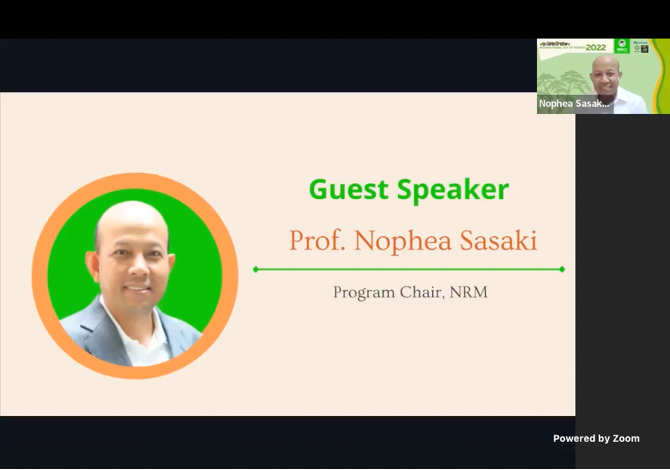 Meanwhile, one of 11 students who collectively organized the contest, NRM Master's student Ms. Pia Montoya said that the forest has been the topic of her motivation, and being a part of raising awareness of the forest and ultimately preserving the forest is her goal. "Being part of AIT is a great opportunity for me to contribute to raising awareness throughout the world," Ms. Montoya said.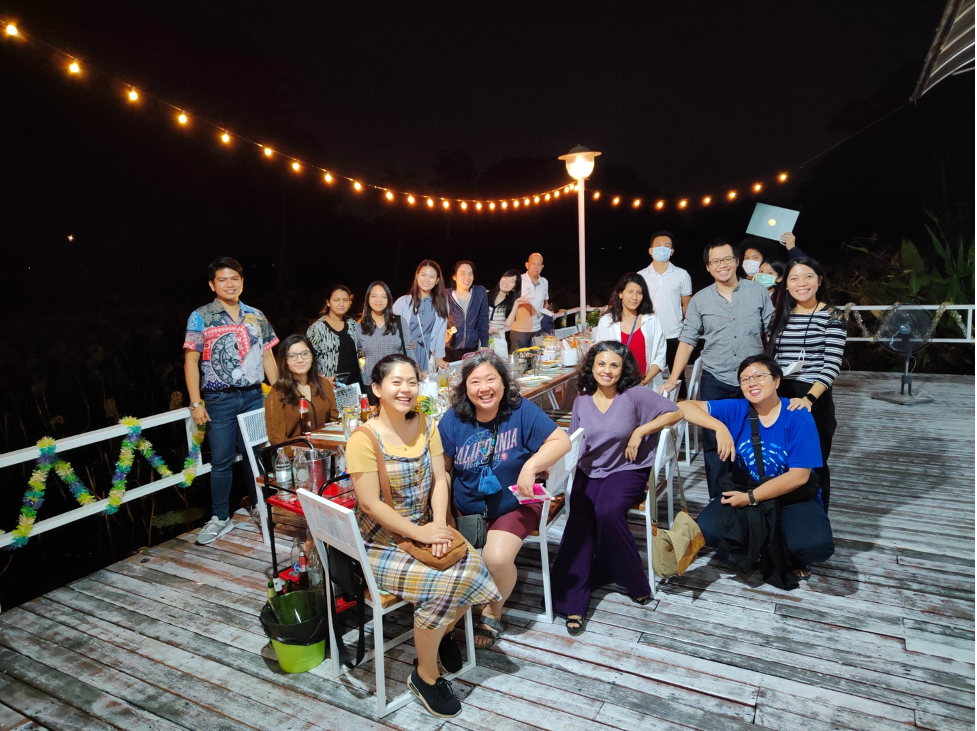 Rooted in an environment advocate family, Ms. Montoya's family founded the Macatumbalen Community Based Forest and Management Association (CBFMA), an organization tasked with a mission to elevate the livelihood in the community with forest protection and management located in San Vicente, Palawan, Philippines. Ms. Montoya speaks from her experience that although many individuals contribute to protecting the forests, others may lack proper information and knowledge about managing them. She added, "If the forest is not managed properly or gets the attention needed, the time will come when it will be gone forever."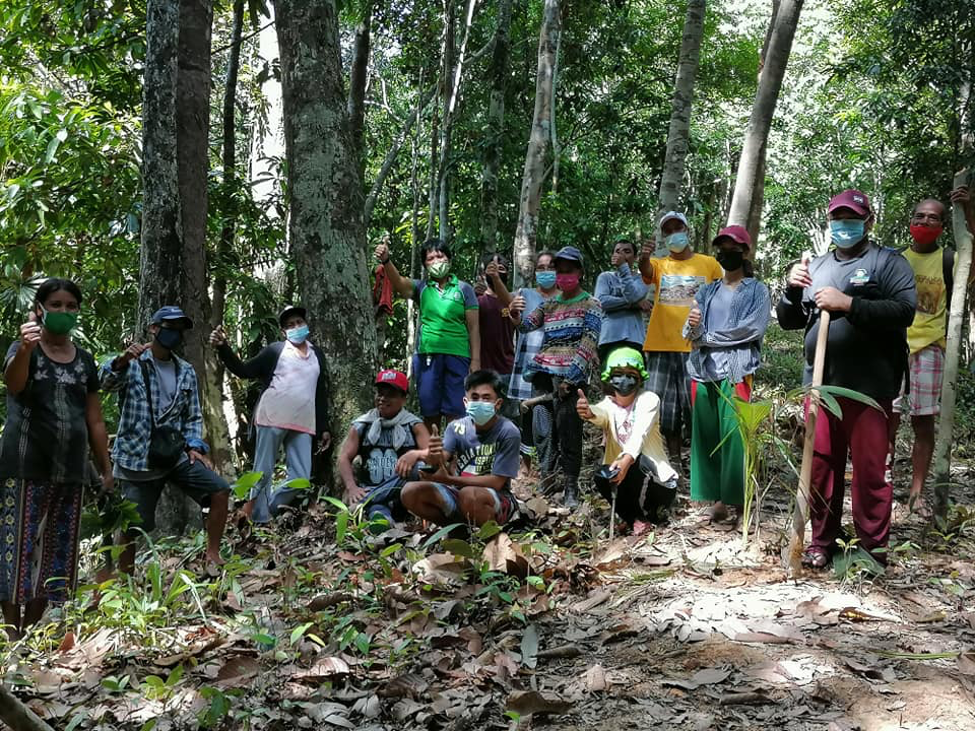 Motivated to strive and excel in forest and natural resources management, Ms. Montoya explained that she enrolled in NRM Program. She is now looking forward to sharing her knowledge while at the same time empowering her community in Palawan.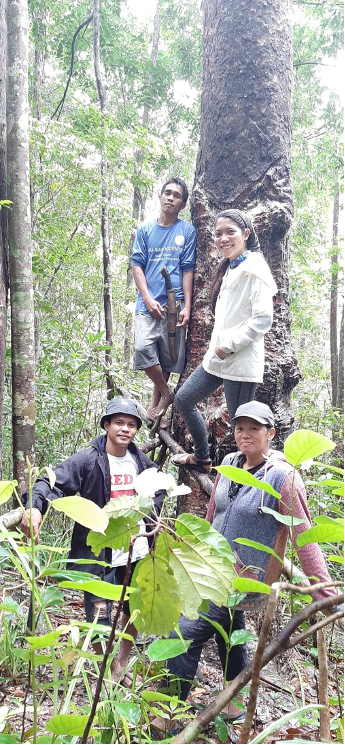 In "The Forest Speaks" poetry contest, the winning poems are: first place winner: "A Whisper of a Dying Heart", second place: "When Forest Speaks, Hear, It Seeks", third place: "Disloyal", special awards: "Song of Nature for Our future" and "Hear Her Voice".
Regarding this poetry contest, NRM-SERD Prof. Rajendra Shrestha said poetry is about a sincere expression of thoughts and feelings, moreover, to be able to write a poem a person must have deepened the knowledge of the topic (raising awareness for the forests) and with these poems, they have illustrated the beauty of the good cause of humanity and the planet. "This means a lot (the poems) to us (people working in the area of natural resources), it is a great source for motivating ourselves," Prof. Shrestha concluded.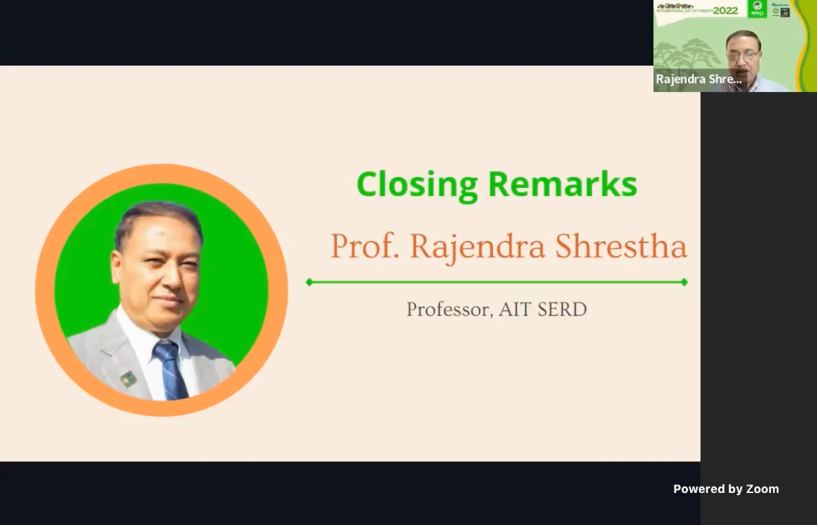 ---
Watch full recording of the announcement event: https://fb.watch/bTWOoXZhX3/
Natural Resources Management (NRM) academic program train students in the fields of sustainable use and management of natural resources, community-based natural resources management, forest carbon accounting, biodiversity conservation, valuation of ecosystem services, and economics of NRM. The program also provides training, outreach, and capacity-building opportunities and has assisted many universities in Nepal, Cambodia, Vietnam, and more in developing their academic programs.
More information on NRM Program: https://dds.ait.ac.th/natural-resources-management-nrm/
More information on CBFMA: https://www.facebook.com/macatumbalencbfma/?ref=page_internal
South Pole is a multi-national enterprise that has provided innovative solutions to reduce climate change impacts by introducing decarbonization pathways since 2006. South Pole develops and implements comprehensive emission reduction projects and strategies that turn climate action into long-term business opportunities for companies, governments, and organizations around the world.
More information on South Pole: https://www.southpole.com
RECOFTC is a non-profit organization in Asia and the Pacific, serving and working with people and forests. The organization has been one of the key supporters of promoting the values of community forestry across Asia and the Pacific at the regional and national levels since 1987.
More information on RECOFTC: https://www.recoftc.org
AIT Student Union (SU) is the representative body for students of AIT. Its primary objective is to foster relationships and encourage harmony among its multicultural community. SU is dedicated to working and increasing environmental awareness, as well as promoting programs from the campus.
More information on SU: http://su.ait.ac.th